About Us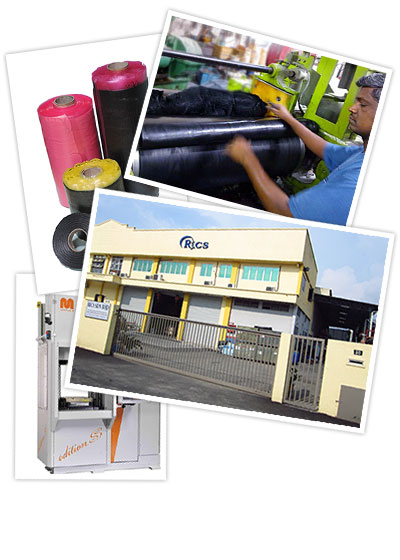 RICS Sdn. Bhd. was established in 1997 as a trading company, providing sales and advisory services to the rubber industry. In 2000, it started the manufacturing section, producing Cushion Gum, Repair Rope and Sidewall for the tyre retreading industry. Over the years, it has expanded its operation and has exported to various countries mainly Australia, Turkey, Europe, Hong Kong, Taiwan and China. It has gained much recognition from the tyre retreading industry and rubber industry for its high quality product and personalized customer service.
RICS Sdn. Bhd. is located in a 16,000 sq. ft. factory situated in Klang. It takes about 30 minutes drive from Kuala Lumpur and less than 30 minutes from Port Klang.
Our company philosophy is to provide continuous value added quality service to customers by continually maximizing our human resources and providing top priority strong commitment to meet customer needs.
Factory & Machines/Equipment
Our Machines consists of 1 unit of 40inch 2-roll mills, 1 unit of 36inch 2-roll mills, 2 50L Kneaders, 1 30L kneader, 1 Calendar, 3 Extruder. Total turn-around of rubber produced monthly is around 30 tons. Our total capacity is 100 tons monthly.
Products
Our company's main product mainly consists of tyre retreading compounds, such as Cushion Gum, Repair Rope, OB Strips and Sidewalls. We also produce tyre marker which is known as RICSON marker. We specialize in custom compounding to meet customer's demands. We are strong in trading of special rubber chemicals, mainly from Lanxess and RheinChemie. We also supply silicone rubber and compound from ShinEtsu ,Japan.
Vision
To be the Preferred Business Partner in the Malaysian Rubber Industry.
Mission
To Identify and Understand Customer's Requirements, and Aim to Provide Uncompromising Attention to Quality Customer Service and Achieving Customer Satisfaction.
History
RICS Sdn Bhd was started by Mdm Chan Lee Khim in 1997 as a trading concern, providing sales and advisory services to the rubber industry. Due to it swift respond to all enquiries, it has gain much respect from the rubber industry, thus, the company is more committed to serve the Malaysian Rubber Industries.
In the year 2000, Mr. Lim Sum Teck joined the company, and ventured into the manufacturing of cushion gum, repair-rope, gum and sidewall veneer for the tyre retreading industry. These technically demanding rubber products required precise process controls, carefully formulated recipes, properly planned marketing strategy, in order to be widely accepted in the market place.
With more than twenty-five working years in the rubber industry (overseas and local) and more than ten years direct experience in the preparation of rubber compounds for tyre retreading industry, RICS's rubber products are well accepted locally and in oversea market. It was through the third party exporter, RICS's Cushion gum and Repair Rope had been exported to Hong Kong, Philippines, and latest development in the U.K. and Australia. The Republic of China will be the next targeted market place.
The factory layout was carefully planned with automation, and mechanise process where possible to increase efficiency and productivity. With minor investment and additional of labor forces, the factory will be able to double it's output.
Out look for the company is very encouraging. With the final stage of development of two potential multi million ringgit rubber products , it is timely to engage some workers to complete the final stage of the development works. Production layouts for these products are at the preliminary stage with particular attention focus on automation and efficiency.
Quality Policy
RICS Sdn. Bhd focuses its direction towards achieving customer satisfaction, statutory & regulatory requirements by continuously improving its processes by applying "Simple, Measurable, Achievable, Realistic and Time bound (SMART)" objectives.
This is achieved by:
Provide excellent quality products and services to meet customer satisfaction.
Continuous implement and improve the ISO 9001: 2015 Quality Management System.